Are Things Getting Better or Worse?
Is it my imagination, or are things seem to be getting worse – and better – every day?
As a life and business coach, I pay attention to trends. And I can't help but notice, there seems there is more violence than ever. More poverty.  More missing toddlers. More people displaying their ignorance and bad manners in public forums.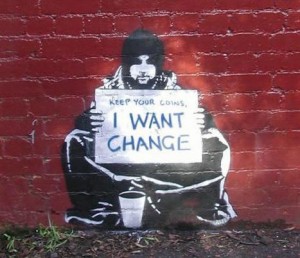 There's more unemployment, more invasions of our privacy, more people suffering from more diseases, and more corporate and political greed than ever before.
In this trend of "worsening," things are going to hell in a hand basket and no one can stop it. If we don't destroy each other with nuclear weapons, get shot by gangs or wiped out by the next pandemic flu, then Monsanto will surely manage to starve us when their mutated seeds can't survive the sudden climate changes brought about by global warming.
Meanwhile, there is another trend as well. It's the trend of endless improvements, evolutionary progress, and "better." 
We have more ways to heal than ever before. More ways to connect. Examples of compassion can be observed by anyone with ears to hear and eyes to see. The rate of change continues to increase, and with that, the abilities of technology and the collective wisdom that is both generated by and available to the masses. In their book, Abundance: The Future is Better than You Think, authors Peter Diamandis and Steven Kotler argue the case for optimism.
Our collective consciousness continues to evolve. Alternative energy, alternative medicine, and alternative ways of thinking abound. Equal rights continue to progress in many arenas. Independent art and music are alive and well, thriving on YouTube and many other platforms, creating an alternative to major label music. And thought leaders such as Lynne Twist and Elyse Hope Killoran offer us alternative perspectives on wealth and prosperity.
And while many businesses have gone under during this recession, others have leveraged themselves, through the internet and other equalizing technologies, to new levels of success. If you listen to Gary Vaynerchuk, who built his family's New Jersey liquor store into a 45-million-dollar-a-year juggernaut with Wine Library TV (prior to becoming an in-demand keynote speaker and social media consultant with a 10-book publishing deal), he'll remind you that there's never been a more equal playing field to build a business than now.
Gary will remind you that never in the world have we had such an ability to be the creators of content – not simply consumers of content generated by media giants. He'll assert that anyone who is willing to hustle and willing to care can build a profitable business or brand. He'll even suggest that he could build his business faster today, because of how many more people are listening to and utilizing social media than five years ago. And he'll encourage everyone within earshot to go for it and turn their passions into a profit stream.
So… are things getting better or worse? In some ways, I think the answer may be "both." And even moreso, the answer depends on you, the observer.
The challenges of modern life are significant and there is no doubt that our time, attention and talents will be required to bring about solutions to the problems we face. But as Woody Allen's recent movie, Midnight in Paris suggests, there is never any opportunity quite like the present.
The reality we experience, and the relative blessings and challenges presented by it, are a subjective experience. How do we label something "good" or "bad," "better" or "worse"? Though our perception, interpretations and beliefs. As I argued in The Cure for the Recession, we have more power than we realize to transform our experience of the world.
Perhaps a better question is… are things getting better or worse for you? Are you learning? Growing? Loving? Are you enjoying your life and making the most of it, or tolerating your own suffering in the midst of it?
If you need any support on your path, I'm here to help. Get the help you need to make your one and only life better.
What do you think? Are things getting better or worse? Leave a comment and let me know your point of view.
Kate Phillips is a Seattle-area coach who works with clients internationally as well as locally. Working primarily with conscious, creative people (often entrepreneurs and other self-employed), she helps people remove the blocks to prosperity (whether internal or external) and discover the rich life they deserve. For a no-cost 25-minute consultation to see if we might be a good "fit", contact us at 206-601-0321 or email: Info (at) TotalWealthCoaching.com