Love and Abundance: The Gift of Ten Broken Hearts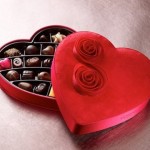 Valentine's Day used to be really hard.
I've been single for 13 years (I'm divorced), and today, I realized how far I've come.
Several years ago, If "that special guy" didn't call, ask me out, or plan something, I felt lousy. Unimportant. Hurt. Maybe even angry.
If I was on a Valentine's date that wasn't going the way I wanted it to, my expectations produced frustration. If I spent the evening home alone, I was sad.
Scarcity shows up in all sorts of ways (money, love, time…). So does abundance and prosperity. When we look for what's "missing" and "lacking" we will find more of it. When we celebrate what's here, or better yet, CREATE it, we have everything we need.
A few years ago I had a turning point in my relationship to both Love and Abundance. I had been focusing on the goal of "Being in a Relationship" for years. Not just any relationship, but a great one. I had envisioned a passionate, committed, loving relationship for years, yet none had shown up to any significant extent.
Sure, there had been lots of dates and even boyfriends. There had also been plenty of romantic dead-ends and false starts, so many that I became known for my "Nashvillian Love-Gone-Wrong" songs and had vowed to name a CD Romantic Comedies and Other Tragedies.
I noticed a pattern – that when a relationship was new and full of hope and promise, I would be thrilled. As time marched on and the skeletons inevitably rattled out of the closet (emotional immaturity, cheating, stalking, addictions, warped values, etc.), my happiness would plummet.
I would work hard to "save" the relationship (or "fix" the guy), becoming miserable in the process. I knew how to be happy on my own, but once tangled in the relationship, I resisted going back to singleness. I became attached to the guy and to "this" relationship. I would resist the unavoidable outcome until the relationship became unbearable.
When the romance was finally pronounced dead, the next stage would begin. Analysis, grieving, and way too many imaginary "conversations" in my head with the recent ex. I'd seek to understand, explain, and perhaps even create new scenarios in my head with alternate endings.
Never in complete despair, I had come to recognize the resiliency of my heart. As difficult as this "getting over someone" stage was, I knew that when it had run its course in the following weeks or months, I would be sane again. Happy again.
I remember writing in my journal, "I can't wait to get my balance back."
Hmm… get my "balance back"? What did that mean, I thought? How and when did I lose my balance?
The answer became obvious. I lost my balance precisely at the point when I handed over the keys to my happiness to someone else. At the point when I started to lean inappropriately on another person for my emotional fulfillment. I lost my balance when I gave my power away.
Out of curiosity, I counted these experiences. In ten years, I had experienced ten romantic disappointments. Ten failed relationships. Ten broken hearts. And the gift of those ten broken hearts was this: I realized I didn't want or need "a relationship." I just wanted to be happy. And I had been hinging the success or failure of my own "happiness" on whether or not I was in a relationship!
I erased "passionate, committed loving relationship" from my list of goals and replaced it with a new, revolutionary intention: To be happy, whether or not I was in a relationship.
I also got clear about what I wanted from a relationship.Of the long list of desired benefits and features (love, passion, companionship, etc.) "Love" had always been at the top of the list. Now I realized the sacrilege of it. Here I was, love incarnate, waiting for someone to "give me love" (and refusing to be whole and complete without some external "giver of love"). Hmm, perhaps, I should look at how I was giving (and not giving) love to myself….
I look forward to discovering and growing that special relationship someday (who knows, perhaps tomorrow). But never again will I hand the keys to my own happiness over to someone else. Never will I cling to a relationship, imagining "love" to be a scarce commodity and men to be in short supply.
It took some time to develop new thoughts and feelings about "relationships." But I'm getting the hang of it. I no longer approach holidays with anxiety, frustration, or self-imposed expectations. I just enjoy them, however they show up.
Today was the perfect Valentine's Day. I dressed up like a human Valentine's card (black skirt with red roses and red accents to match), shared a lovely meal with a woman friend from out of town, visited another friend in jail, and met some wonderful new people doing the same.
I came home, finished some work, and watched a short movie with my father. We enjoyed some lovely chocolates and flowers sent by a girlfriend.
Nothing was missing. Nothing was wrong.
I did not approach Valentine's Day seeking love, needing love, or assuming that love had somehow gone missing. I approached it knowing that I embody love. Knowing that I am the Source of love, literally, "a cup of God."
I brought love to those around me with my festive outfit, words and smile. I received love and happiness from an endless number of friends, family, and even strangers. And I was, and I AM… Happy!
Love is abundant. Love is everywhere. Love is inside of me. It cannot be lost or taken away. Perhaps I shall feel the pang of romantic disappointment again, but I shall not forget the gift of ten broken hearts, the undeniable awareness that I AM LOVE.