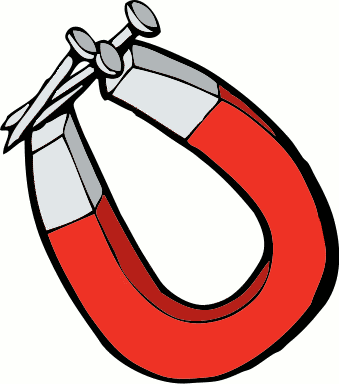 The secret to The Secret:
A few years ago, the DVD phenomonon "The Secret" (and subsequent books and cd's) produced by Rhonda Byrne popularized the Law of Attraction.  Not a new concept, the Law of Attraction (LOA) says that we attract what we think about.  Our thoughts and (especially) our feelings are, literally, "magnetic" and will attract more of the same. But does the law of attraction work?
"The Secret" was applauded for savvy production and marketing, bringing the LOA concept into the mainstream.  Meanwhile, others criticized it for being overly simplistic, too focused on materialism, or simply too "woo-woo."
Whether you loved it or hated it, "The Secret" raised awareness of how our thoughts and feelings might have a real impact on our lives, and even play a role in creating the events that appear to be "happening" to us.  It questioned our role as "victim" and took seriously our role as "creator" of our lives (or "co-creator", if you prefer).
Many people started noticing what they were attracting, and perhaps even started saying affirmations, posting their intentions on their bathroom mirrors, or collaging a "vision board."  Those that took proactive action probably observed their circumstances beginning to shift.  However, they also generally noticed this frustrating pattern:
Sometimes the Law of Attraction seems to work. (At times rather miraculously.)  And sometimes… it doesn't.
Is it mere coincidence?  Is the concept flawed?  Are we "doing it wrong"?  (To which I answer, "no," "no," and, "well, maybe.")
First off, let me say that the Law of Attraction appears to be a genuine force.  But it's not the only thing that determines our results. Not by a long-shot.
You see, the Law of Attraction deals (at least initially) with our conscious thoughts – the "tip of the iceberg" - while what's under the surface is much more likely to be running us.  Even more powerful than the Law of Attraction is the Law of Alignment.
The Voices in Our Head
Since I work with people on their relationship with money, I observe this problem all the time.  It looks like this:
While someone gazes at pictures of what they desire and recites a mantra like, "I am money magnet" or, "Abundance flows effortlessly to and through me," their subconscious conversation is quite different.  (Or they could be praying for what they want, the principle is the same – focusing on what we desire.)
If you could record their innermost dialogue, beneath the surface of the obvious and even their conscious internal conversation, you might hear this:
"No matter how many vision boards I make, the economy still sucks and I don't really believe that I can overcome that with my thoughts."
"I want abundance to flow freely to and through me, but I fear that I am not really worthy of it."
"I wish that I was a magnet for money, but if I was, I wouldn't need to be chanting this stupid mantra!"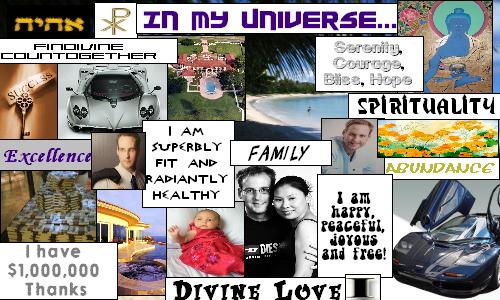 You see, our own thoughts are not in alignment with themselves! Like a quarelsome internal family, the bickering continues in our subconscious minds.  Maybe our goal is to 1) earn a high income 2) in our own business, 3) invest wisely, and 4) retire young 5) to pursue travel and volunteer work.  Sounds like a great goal, right?  But the problem is a myriad of misalignments buried beneath the surface:
1)  Earn a high income? Perhaps our friends or even our church taught us that people who make a lot of money are likely unethical and not to be trusted (and we are ethical and trustworthy, so we have an internal dissonance with the idea of making a lot of money).
2)  In our own business? We're self-employed, but our parents always told us we needed a "good job" to be successful (so we question our ability to succeed in our own business and sabotage ourselves).
3)  Invest Wisely? A close friend we look up to lost his shirt in the market, and others watched their rental homes go into foreclosure, in spite of their knowledge and savvy (so we have no confidence in our ability to do better and fear we'll never grow our nest egg fast enough for financial freedom).
4)  Retire young? Nice idea, but our parents are still working and we'd secretly feel funny or even guilty retiring before them (so we're conflicted about the goal).
5)  Travel and volunteer work? Again, this sounds great on the surface, but perhaps we procrastinate on taking action because that lifestyle - however desirable – is simply outside our comfort zone (so it may actually feel more comforting and "safe" to stay where we are and never actually do the thing we say we want to do).
Do you see how this works?  A more reliable indicator of our true thoughts, beliefs, desires and values might be our actual results.
Another accurate indicator of what we really think or believe is our actions.  Our thoughts and feelings determine the actions that we take or don't take.  When we are not taking action towards a goal (but have little problem taking actions in other areas) the problem is more likely a lack of alignment than a lack of discipline.
If we are repeatedly and constently stuck at the same frustrating place, there is a reason. Our experiences, beliefs, and emotions are likely mis-aligned in some way. I've heard it put this way:
If you want to know what your true intentions are, look at your results.
So, even while trying our best to practice the Law of Attraction, we might be completely out of alignment!  And not only don't our words and beliefs match, but our beliefs and our emotions are irreconcilable as well.  Maybe we're saying what we wish to attract, but all the while we're feeling what it is that we don't have.
Our affirmations take on a desperate tone because our focus is really on our lack. If we're attracting anything, it's more frustration, more scarcity, more discomfort, anger or shame that we are still broke, single, unemployed, overweight (fill in the blank).  The fact is, we are not "attracting" anything, we are stuck in resistance, which is not a powerful place from which to create.
Testing Your Alignment
While working with a coach several years ago (back when I was a real estate agent) – I had a career-shifting "Aha!" moment.  I had been attending real estate training seminars and increasing my marketing efforts to work towards the goal of growing and expanding my business.  This was something that virtually all realtor seminars taught – "How to grow your business bigger and better!"  After all, wasn't that the goal?  To have a big business by gaining more clients, hiring more assistants, and concentrating our own efforts on high-revenue activities?
My Aha was this:  I realized that
1) I didn't enjoy managing other people.
2) I did enjoy managing most of the details of the transaction, which also made me a more effective trouble-shooter.
3) I loved providing personalized service to my clients.
4) My clients hired me because I gave them top-quality, personalized service.  (They wanted me, not an assistant.)
5) I didn't want a bigger business! In actuality, growing a "bigger, better business" felt like a "should" and not a "want to."
Immediately, I stopped all marketing and advertising, working only with repeat and referral customers.  I outsourced a couple hours a week of administrative work, and did everything else myself.  I decided I would have a "boutique business" in which I provided excellent personal service to a limited number of clients.  I saved time not having to advertise or take calls from those responding.  And as another a side-effect of limiting my business, my referral income grew, because I referred customers who were not my ideal customers to other agents.
To make progress towards anything, we've got to know where we're going, and then make sure our "ducks" – our thoughts, feelings, beliefs and desires – are in a row.
To see if you are fully aligned with the things you say you want, ask yourself these questions:
If I got what I say I want, what might the downside of it be?
What is the "payoff" or comfort in remaining stuck where I am?
What beliefs, emotions or experiences run counter to the new thing I'm trying to create or attract?
When I think about reaching my goals, does that feel completely positive, or do I have conflicting feelings or thoughts about reaching them?
Do I surround myself with people who are supportive of my goals and desires?  (And if not, why not?)
What price am I willing to pay (and not pay) to attract or create what I want?
Is there something even more desirable than my current goal that I would rather create or attract?
Do I see myself as a person creating or attracting what I say or want?  (I.e.- is my identity aligned with my desires?)
Be honest with yourself, and you will likely uncover your hidden resistance to the thing you think you want (that keeps eluding you).  The Law of Alignment is "the secret" to making the Law of Attraction work for you!